Our Services
Car Driving Lessons (Manual & Automatic)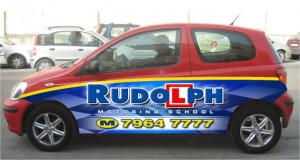 You can learn to drive and take your test on a manual or automatic car, choose whichever suits you best. Automatic cars are becoming more popular but if you choose this option, your license will only entitle you to drive only automatic cars. If you choose to learn on a manual car on the other hand you will be entitled to drive both.
We offer lessons for both manual and automatic cars and have both male and female qualified full time instructors. We pickup/dropdown candidates all round Malta and lessons are held from Mondays to Saturdays all day long.
To book your first lesson we made it very easy, just call us now on 7964 7777 or 2764 7777. Or you can also send your details on rudolph@onvol.net and we will contact you ourselves.
Your perfect choice for driving lessons in Malta
Much more than simply providing you with the skills to pass your driving test, we will teach you in a calm, professional style how to drive both confidently and competently.
Experience - fully qualified instructors.
Structured learning - proven, comprehensive, flexible.
Tailored lesson content - learn at your pace not ours.
Competitive prices - our quality teaching can mean lower total cost.
Your lessons
You can be assured that your qualified instructor will take a relaxed, flexible and professional approach in teaching you to drive - and that includes our very strict 'no shouting policy'.
Your instructor will cover not only 'the how' but also 'the why', and teach at a pace that suits you.
We will spend maximum time on the elements that need the most work. Each lesson will be planned in advance and we will keep record of your progress.
Our lessons have no mileage limits and in fact, we promise that you will spend as much as possible of your lesson driving and not parked by the roadside talking.
If it's practical, we will pick you up from your workplace or school and return to your home or vice versa. However please understand that we will look to vary your lesson times to provide experience in different traffic conditions.
Finally, as long as you have decided that you want to learn to drive, the first step is easy ' go ahead and book your first lesson with Rudolph Motoring School. It will require some hard work from us both, but we truly believe that you will enjoy learning to drive with us.
Minibuses and Coaches
Category D (Coaches/Buses)
This license is required for the carriage of persons having more then 8 seats in addition to the driver's seat. To qualify one must have a minimum of 1 year experience with a car license B and be medically fit. (Tuition vehicle equipped with dual-controls)
Starting from € 25 Per Lesson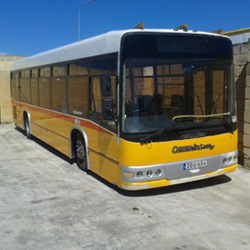 Truck and Trailer Driving Lessons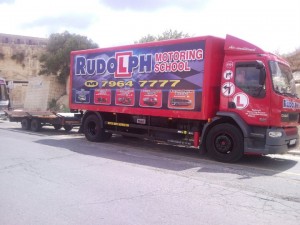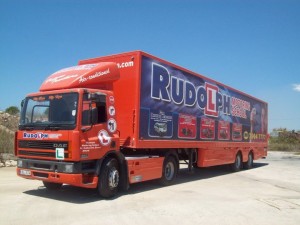 Large Goods - Carrying Vehicle Category C (All Rigid Vehicles)
For anyone wishing to drive Heavy Goods Vehicles over 3500kgs, this license will enable successful candidates to drive any Rigid Vehicle with a small trailer not exceeding 750kg. To qualify for this one mush have a minimum of 1 year experience with a car license B and be medically fit. (Tuition vehicle equipped with dual-controls and air-condition)
Large Goods - Carrying Vehicle
Category C + E (Articulated Vehicles)
This license is required to drive Goods Vehicles over 3500kgs with a trailer over 750 kgs, drivers are required to pass Category C prior to taking a C + E course and test. (Tuition vehicle equipped with dual-controls and air-condition)
Starting from € 25 Per Lesson
Motorcycle Riding Lessons
Our riding training provides you with all the help and support you need to develop and improve your riding skills so that you have a better chance of passing the first time
All our instructors are committed motorcyclist with years of experience under their belts. They're also fully qualified to teach you skills you'll need for riding on today's roads. As passionate riders themselves, they're happy to share their experience and provide you with personalized training to make sure you get the best out of your riding experience. Whether you;re new to two wheels or returning after a break, we will find exactly the right course to suite you. Our lessons are held in a safe training area for beginners then on the road with a safety car behind the learner's bike communicating via a two way radio system exactly as the real final test is held for your comfort, safety and peace of mind.
For booking your first lesson we made it very easy, just call us now on 7964 7777.
€15 Per 45 minutes lesson
Categories and Motorcycle/Scooter you could drive with each category:
AM: up to 50cc (max speed 45km)
A1: up to 125cc (max 15bhp)
A2: no particular engine capacity (max 47bhp)
A: open: any engine capacity and no power limits.
You must meet the minimum age requirements list
Category Minimum Age
AM 18 years
A1 18 years
A2 20 years
A Either 22 years and at least two years' experience with Category A2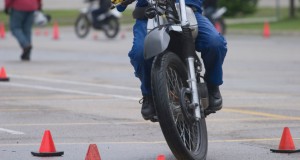 Theory Lessons
Many people find that studying for the Theory Test at the same time that they take driving lessons is the best way to put the theory in practice. Applying your knowledge of the theory on the road will boost your confidence and should improve your chances of passing the Theory and Practical Tests the first time. Studying this way, with us you will get the support you need from your instructor who can show you how the theory applies in reality during your lessons. You can buy the theory question bank book or the CD to study from and if you find it difficult to study alone we have the facility of our own theory centre/teacher at our office to teach you privately. You may download all the theory notes from our downloads section for FREE.
€10 Per 1.5 Hours on individual basis
Services We Provide